Arts Festival for Democracy in Chile
Video recordings
October 1974/January 2014/November 2019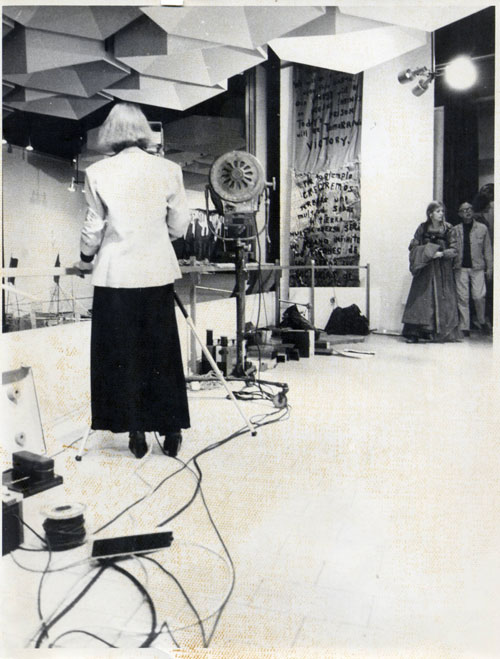 Shortly after arriving in London from Scotland in September 1974, the artist was invited to take part in the "Arts Festival for Democracy in Chile". The festival was organised by Artists for Democracy, founded that May as a response by artists to the military coup which had brought down the government of Salvador Allende in September 1973. The festival was held at the Royal College of Art in October 1974, and included contributions from artists from all over the world.
Lynn MacRitchie videotaped the opening ceremony and many of the discussions, performances and events held during the festival. The tapes show participants including the artists Roberto Matta and Jorge Immendorf, the writer Ariel Dorfman, former Chilean ambassador Professor Alvaro Bunster, the actress Constance Cummings, the trade union activist Brian Nicholson, performance artist Dirk Larsen, print makers John Phillips and Pippa Smith, musicians Caboo and AGOR-MMBA, dancers Craig Givens, Betsy Gregory and Martha Grogan and AFD founder members and supporters including David Medalla, Guy Brett, Cecilia Vicuna, Mavis Penn, Jonathan Miles, Steve Sprung, Jun Terra, Colin Grigg and Roberta Hunter Henderson.
All the videos were shot by the artist, using a camera which belonged to the Royal College of Art (RCA). Some were shot with the camera hand-held, some using a tripod. No other equipment eg separate microphones or special lighting was used. The tapes were edited in the RCA Environmental Media Department. The artist worked alone, with the support of the department technician. At that time, video was a very new medium: portable video cameras had only recently become accessible to individuals, and artists had just begun to experiment with them. Thus neither artist nor technician had any training in using video and had to work things out for themselves, experimenting with techniques. All the editing, for example, was done by manual switching between two playback machines, which could cause interference on the final tape. The editing process was slow, and took several months. The finished tapes were shown at "The Video Show" at the Serpentine Gallery, London, in May 1975
Some forty years later, the artist was invited to show the videos in the exhibition "Artists for Democracy: the Archive of Cecilia Vicuna", in Santiago, Chile, January - April 2014. The tapes were digitally remastered and a copy given to the Museum of Memory and Human Rights, Santiago, for its permanent collection. The status of the videos as documents of historic importance was confirmed when, in 2019, the "Statements" tape was shown as part of the "1973: A Year in Art" collection display at Tate Modern. At a panel discussion and screening held as part of the display, the artist gave a presentation about the Arts Festival for Democracy in Chile, a recording of which is available on the Tate website.
See the "Statements from the Arts Festival for Democracy in Chile"
See the "Opening Ceremony from the Arts Festival for Democracy in Chile"
See "Performances from the Arts Festival for Democracy in Chile"
Original video recording, editing and voiceover: Lynn MacRitchie, 1974
Digital transfer: Stanleys at The TV Set, London, December 2013
Post production: Michael Cheetham, 2014
Read the testimony by Lynn MacRitchie in the catalogue of "Artists for Democracy: the Archive of Cecilia Vicuna", 2014