The Language of Eden
Part 2: A Future
Film
Research begun 2018
Released 2020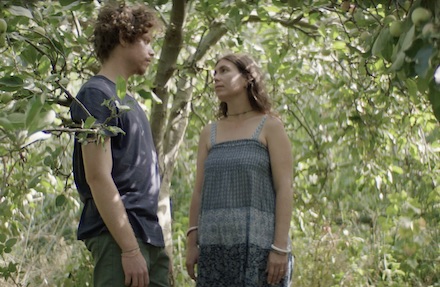 "The Language of Eden: Part Two, A Future"was filmed in the grounds of The Othona Community, Bradwell on Sea, Essex, in August 2019. It brought together a cast of volunteer participants and professional musicians in a contemporary take on the Adam and Eve story, based on John Milton's poem "Paradise Lost".
As in "Language of Eden: Part One", local traditional music, this time folk songs from Essex, was used as the basis for new songs with lyrics written by the artist. Musical director Charlie Skelton arranged the music and led workshops with the volunteers to learn the new music for the film, sing in its Choir of Angels and play their instruments in its Paradise Band. Three volunteers took on the non-singing, acting roles of Adam, Eve and the Archangel Raphael. Their dialogue was sung and recorded separately by three professional singers and added to the soundtrack during the editing of the film.
In Milton's "Paradise Lost", the Archangel Raphael talks with Adam about loving Eve: as well as being attracted to her beauty, Raphael advises, Adam must also try to understand and respect her.
The film explores this journey to self-discovery for Adam and, most crucially, for Eve. Walking alone along the densely wooded pathways which wind through the Othona grounds, Eve embarks on a journey of profound self-questioning during which she begins to articulate and accept her need for independence and agency in her life. When they meet again beneath the apple tree, Adam recognises and respects this change in Eve and chooses to go with her, out from Eden into the world, to build a human life together.
The Choir of Angels, which has watched over Adam and Eve in the garden, also marches out into the world, transformed into the Paradise Band, their cheerful music and song rejoicing in praise of all forms of human love.