The Golden City
Video installation.
2008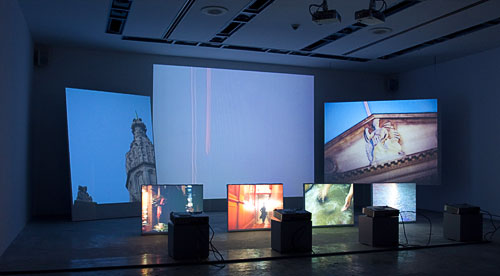 Just off Cornhill, at the ancient heart of the City of London, lies a tangle of narrow alleyways. Here, where the Romans founded Londinium, stands St Michael's Church, and, close by, St Peter's Cornhill rises on the site of the first Christian settlement in Britain, of 187 AD. Just across Cornhill stands the Royal Exchange, and beyond that, the Bank of England. Sculpted on the keystone of the bank, the figure of Britannia presides over the heart of the city, seated on a heap of coins.
At the end of a winter's day, the spires of the churches gleam against the sky, catching the light from the street lamps and shop and office windows. Down below, in a tiny shop at the apex of the alleyways, busy hands move trays of jewellery and precious objects to and fro. The city is at its business, and that business revolves around gold. London is the world centre of gold dealing, and the price of gold is fixed in the city twice daily, at 10.30am and 3pm. The idea for "The Golden City" struck the artist as she was walking though these alleyways one December afternoon, at 3pm.
"The Golden City" is a multi screen video installation.
Seven looped video sequences, screened simultaneously, show the sky above the Bank of England, the tower of St Michael's church, the jewellery shop, the alleyways, Britannia on the keystone of the Bank of England, hands panning for gold and the setting sun reflected in the River Thames.
The location sequences were shot between sunset and the coming of darkness in January and February 2008. At that time of year, this span of time, which film makers refer to as the "golden hour", coincides with the ending of the working day.
On the video screens, the essence of that city day, so focussed on the getting of wealth, seems to have seeped into the very walls of the buildings, glowing in the last rays of light, as the setting sun reflected in its surface transforms the Thames itself into a river of gold. One by one, each video sequence is transformed into the same view of the river, as buildings, alleyways and people are swept away in its golden tide, rising inexorably to meet the sky. The sequence is reversed, the water recedes and business resumes, until the tide rises again…
"The Golden City" was first shown as part of the group exhibition of the same name at the Akbank Cultural Centre, Istanbul from April to June 2009.
Video recording, editing, and output, digital image manipulation, production management: Michael Cheetham's Wizden Wow Works
Extracts from exhibition catalogue essay by Christine Lindey
Exhibition press release
News item on Turkish TV station NTV